Microsoft Fabric is the new buzz in the technology industry these days and everyone wants to get their hands-on on this new tech-stack. Are you also among this group who wants to learn Microsoft Fabric? Do you want to start soon with this new tech and explore it's potential? Do you want to understand how Microsoft Fabric can be helpful in taking your business solutions to the next level? Do you know it's very easy to get started as Microsoft is giving free Fabric trials to it's users for a limited time?
I come from Power BI universe and the moment Microsoft Fabric was announced, I was interested in exploring what Fabric brings for Power BI developers. Can Fabric help Power BI developers in any way? What Fabric has to give us with it's new capabilities? Can I use Microsoft Fabric for developing better client solutions? I am sure all of us have the same set of questions and even more. In order to uncover the hidden potential of Microsoft Fabric, it is important to start exploring it from the scratch and trying it out. Let's understand in this blog what Microsoft Fabric is and what it has to offer.
What is Microsoft Fabric?
Microsoft Fabric is a unified end-to-end analytics platform that provides a common integrated environment for data professionals and business users. So basically it's a single environment where you can ingest, store, process and analyze data. When we talk about data ingestion, data storage, data processing/transformation and data analysis; it makes us think if we are we talking about a single platform that can be used by various data professionals coming from different backgrounds? If that's what you are thinking, then you are absolutely right. Fabric provides a variety of services that can be used by data professionals coming from multiple backgrounds. Fabric services are listed below:
Data Engineering
Data Integration
Data Warehousing
Real-time Analytics
Data Science
Business Intelligence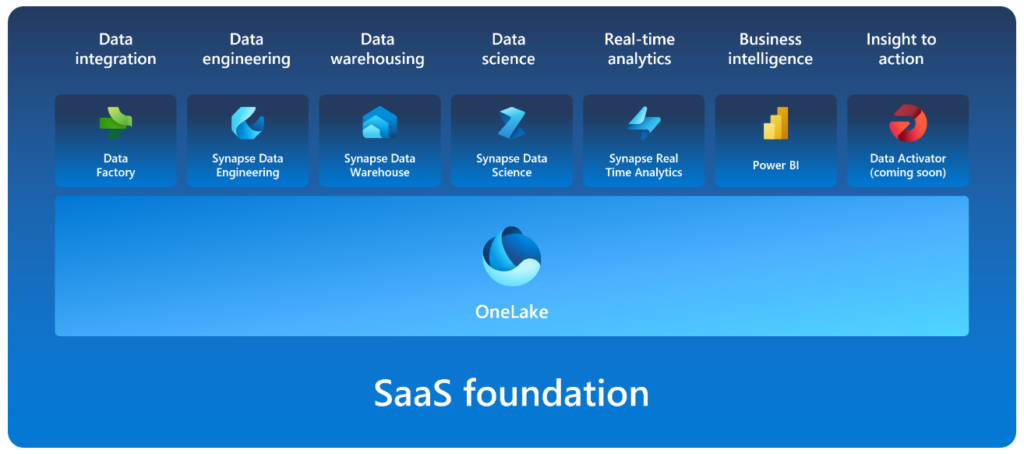 What is OneLake?
When you see the previous image, showcasing all the Fabric services; a new term is seen OneLake. What does this mean? As we talked earlier, Fabric is a single unified offering and is SaaS based (software-as-a-service) – this means it stores all your data in an open format in OneLake. So OneLake is basically a storage area, which is accessible by everyone working on this single analytics platform. OneLake is also termed as "the OneDrive for data". It is the core of the Fabric approach.
One biggest benefit of Fabric that I see is – without copying or moving data to different systems and teams, you can easily collaborate with the data team members. All the data team members read data from a single copy – OneCopy of OneLake. Fabric provides a default configuration to work with OneLake for data warehousing, data engineering (Lakehouse & notebooks), data integration (pipelines & dataflows), real-time analytics and Power BI. All of these components use OneLake as a single storage area without the need of extra configuration.
In OneLake data can be stored in any format – be it CSV, JSON, Delta, Parquet and many more. One another biggest feature of OneLake is that you can create Shortcuts to other data sources like pointing to other files or storage locations. Without copying the data from this source, a shortcut is created to Fabric OneLake which also helps with data synchronization. Data is always up-to-date in your OneLake.
Fabric User Profiles
The following picture gives a very clear view on whether you come from Data Engineering background or Data Science or Data Warehouse or Power BI; Fabric has got something for all the user profiles.
Keeping in mind what all potential Fabric has got and what all we as a data team can use it for; I still have another point to make here. Fabric not only gives us an analytical platform to leverage our existing skills, it also gives us an opportunity to expand and learn new skills. Some of the skills that data teams can build using Fabric are summarized below:
As a Power Platform user, I really support the concept of low-code and no-code to enable every user use such capabilities. Fabric has a concept of low-code & no-code which doesn't stop any user from adapting it.
If don't have coding skills, but heavily use Power Query, then Fabric is for you.
If you haven't written pySpark notebooks before, but have a little experience and want to expand your knowledge, then Fabic is for you.
If you are a Power BI report developer and want to start expanding your skills by transforming data upstream, then Fabric is for you.
If you are a Data Scientist developing prediction models and want to deliver insights in more interactive way, then Fabric is for you.
For me Fabric comes with a lot of potential and I can't wait to try it and start developing my power BI solutions using it. We have introduced ourselves to what Microsoft Fabric is about, we can start exploring it's capabilities now. You can refer my next blog on Getting Started with Fabric to enable Fabric and get started.
Happy Fabric Learning!
Pragati